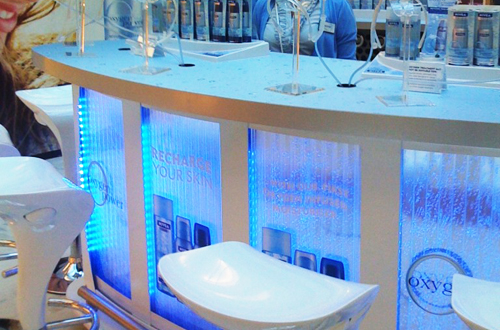 Oxygen Bars Branding

Oxygen Bars offer numerous customized branding options to make your Oxygen bar Unique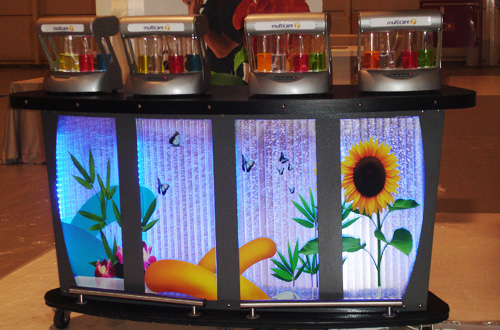 Bar Types

We have the largest Oxygen Bar selection in Europe, we can offer a bar to suit your requirements....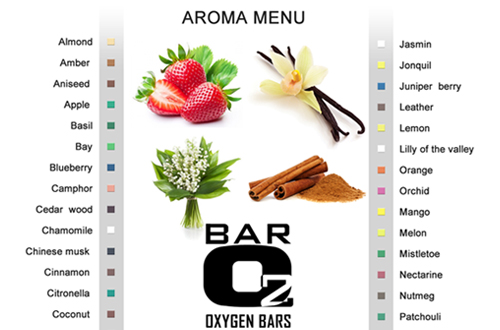 Aroma Menu

We can colour code and custom name the aromas to ensure they theme into your branding.
Bar O2 are proud that we started the UK oxygen bar craze back in 2001 and are now the UK's market leader for high quality rental and supply solutions.
Our Oxygen Bars provide pure oxygen and mouth watering aromas and can be found at corporate & private parties, festivals, health spas, gyms and tanning salons at shopping centres and even on the high street.
We supply the entire package from oxygen stations (Infusors), oxygen bars, oxygen concentrators (including parts), to service contracts and emergency repairs. All our equipment is warranted and CE approved.
Bar O2 Oxygen Bars are always the main talking point and attraction at events such as:
• Award Ceremonies
• Conferences
• Exhibitions
• Corporate Events
• Private Parties
• Product Launches
• Weddings
• Xmas & New Year Parties
• Health Promotions
• Venue Openings
• Barmitzvahs
• Pubs and Nightclubs
Bar O2, Europe's Premier Events Oxygen Bar Rental supplier
We provide 1 to 16 station, single or multiple Oxygen Bars for Special Events, Exhibitions, Conferences, Awards, Corporate and Private Parties, Product Launches, End of Term Balls, Fresher's Parties, Proms Nights, Weddings or any occasion that needs something different & unusual.

We offer international coverage, staffed or un staffed bar hire from 1 day to 1 month duration, on site technical back up we are the O2 Bar experts.

If you are considering renting an Oxygen Bar, Look no further!

Our spectacular Oxygen Bar Events leave users invigorated, stimulated and revitalised; we always draw a crowd and are always THE talking point of the event.